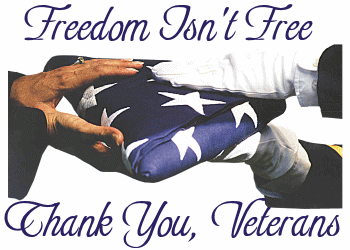 glitter-graphics.com
Happy Veterans Day. I'm going to a Veterans Day parade around 10:30 this morning. My daughter is marching in it with her Brownie Troop.

Today I will think of Veterans past and present who have served their country. Including members of my own family. My father was in the Korean War, My husband's father was in WWII, and was a POW. My brother-in-law was in the Vietnam War, My husband was in the Army, luckily in peace time, and my nephew was in the Army and the National Guard. And even my Mother-in-law was a WAC (which is the Woman's Army Corps) in WWII. That was before woman could join the Army. But she voluntarily helped out during WWII.



So I will be thinking of my family members who are Veterans and have served their country. And I will be thinking of people who are serving our Country now.