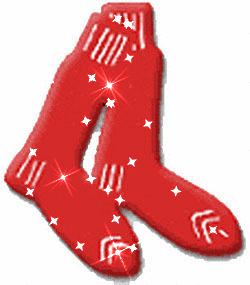 glitter-graphics.com
I'm not happy! The Red Sox lost last night to the Rays. The score was 9-8. Now the series is tied at 1 to 1. The good news is the Red Sox come back to Fenway tomorrow for the next three games. So I'm hoping we can win those games and go on to the World Series.

I started off with a happy feeling when we got two runs in the first inning. But then when Beckett pitched and I think the Rays tied it in the first inning too, I started to lose that happy feeling. Beckett did not pitch very good. It was a battle back in forth the whole game. There goes my hopes of a sweep.

The other thing I'm kind of peeved about is the way they are announcing this on TBS. Anyone else feel this way? I really don't understand, why it is even being shown on TBS in the first place. They are not a sports channel. I'm really getting annoyed with the announcers on there. I practically wanted to mute it last night. They are not supposed to be biased towards one team, but it seems they really favor the Rays. For example last night Pedroia, from the Red Sox got 2 home runs, and the announcers barely even cared. When someone from the Rays got one, the announcer flipped out. And was like "HOME RUN, THAT WAS INTO THE NIGHT!" He was all excited, it was very annoying.

Well that's my little rant about the game last night. I hope I can get back that happy feeling when they play tomorrow at Fenway!