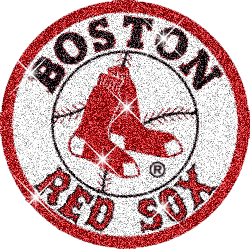 glitter-graphics.com
Yea! I'm so excited the Red Sox won last night against the Angels. The Red Sox clinched the ALDS, winning last night 3-2. So now they are on to the Tampa Bay Rays Friday night.
I hope we can win against the Rays. The Rays have had a great season and the Red Sox have had a hard time against them this year. At one point if you remember there was a bench clearing brawl between the two teams. When ever they play against each other now they call it "Division Collision." They're probably going to be saying that during this series.
Also, these games are killing me though. They are on so late, and don't even get over to at least midnight or one even didn't get over till almost 2 am! That's the sacrafice I'm willing to pay though - lol!
I really want to win so we can go to the World Series!! We're going all the way! Go Red Sox Go!