What I really want is some of these: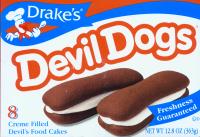 source:
http://www.drakesdevildogs.com/
All I can find are these:
I never realized the difference in products from where I grew up - New England to now in Virginia. This is just one example of a product I can not find around here! And let me tell you Suzy Q's are not as good or even the same as Devil Dogs!
I could order them online - lol.