Hi guys! I want to tell you some more about the Neosporin To Go that I got in my Influenster Vox Box (#TLCvoxbox)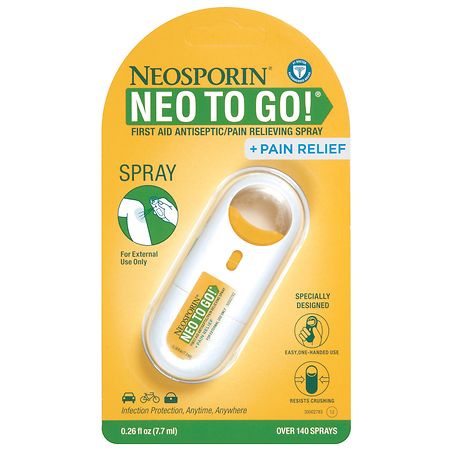 This is a great product that came out recently. I'm sure you know about Neosporin and how good it is for infection protection. Well now it comes in this handy easy spray container. This fits perfectly in your purse, backpack, or even on your key chain.
Go here to check out my
photo
on Instagram - (because I can't seem to get it to show up here)
Also here is a Instavideo I made showing how easy it is to use: go here:
Video
Info from
Neosporin website
:
No Touch, No Sting Application
Designed for Easy, One-handed Use
Durable, Non-aerosol Spray Fits Anywhere and Resists Crushing
Perfect for your Purse, Pocket, Backpack, Travel bag, Kitchen, and Desk
This is great especially for those with little ones. I wish they had this when my kids were at that "scraping knee" stage. It would have come in handy on numerous occasions - like at the park...
Well I'm not sure if it's supposed to be for this but my husband and I got a lot of bug bites over the weekend. And we were spraying it on those. And it really seemed to help!
You can find Neo To Go in most major retail stores, such as Walgreen & Walmart and more!
Disclosure: I received this product complimentary from Influenster for testing purposes only. All opinions are my own.