I got some Nescafe with Coffeemate to review.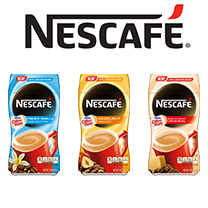 smiley360
This is a new product that recently just came out. The flavors are: Hazelnut, French Vanilla & Sweet and Creamy Original. I first received the Hazelnut flavor. I really liked it and it is very creamy and flavorful. Sometimes I don't like very sweet flavors, but this tasted great and was not too sweet at all.
I also got 3 coupons to try some more for free. I couldn't find the Original flavor anywhere so I bought 2 of French Vanilla and another Hazelnut. I still have to try the Original one.
They are very easy to make - just add 2 tbsp of the coffee to mug, add 6 to 8 oz. hot water, stir and enjoy. These are great because the creamer and coffee are all in one. I was thinking these would be great for traveling or like my husband said when we go camping.
Check them out for yourself at your local supermarket or I found them at Walmart too.
Here to get coupon for .75 cents off:
Coupon
Disclosure: I received the product(s) described above free from Smiley360 for review only.