Hi - I want to tell you about a site called
Artisoo.com
.
This is website is

a leading one-stop online store committed to becoming the best reliable marketplace on the net by offering superior customer services, worldwide shipping and variety paintings (Chinese paintings & oil paintings). They also provide a wealth of information about arts, artists and their imaginative creations. Artisoo believes that a passion to collect and own art is born out of appreciation of art, knowledge, and understanding, and is going to make our planet a better place to live.
Take a look at these paintings below: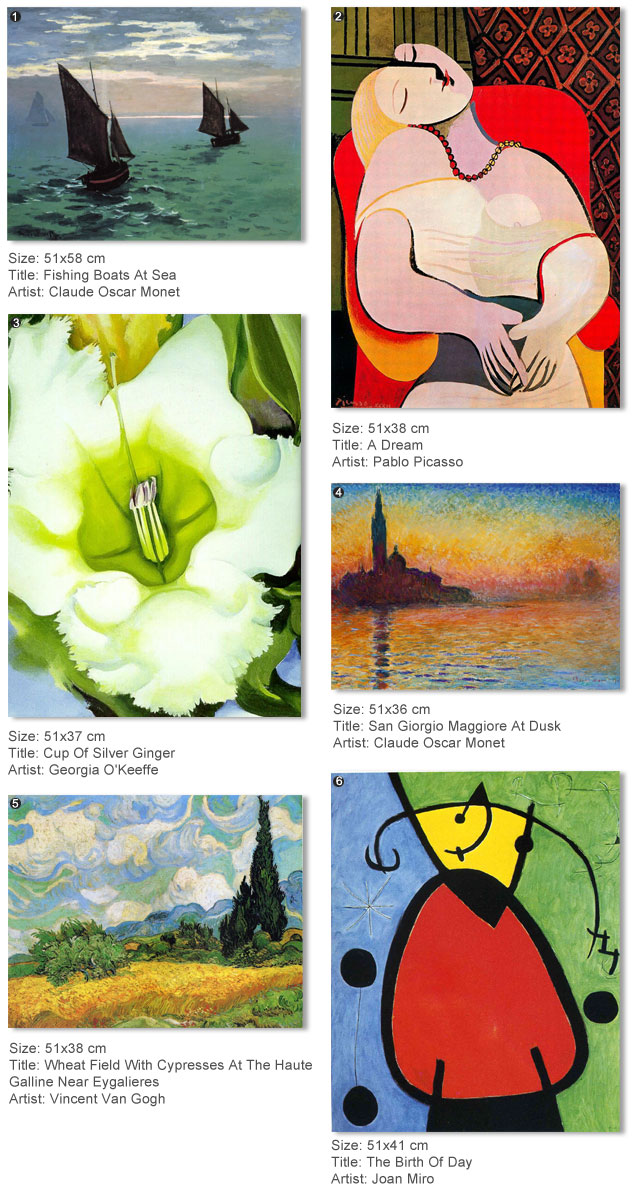 These are hand painted reproductions of famous paintings. One winner will win one of the above paintings (winner's choice). And valued at approx. $100.00. Here is the names of paintings with links for you to pick from:
1.
Fishing Boats At Sea
2.
A Dream
3.
Cup of Silver Ginger
4.
San Giorgio Maggiore at Dus
5.
Wheat Field with Cypresses
6.
The Birth of Day
Artisoo is asking anyone who wants to enter this giveaway to simply leave a comment on this post stating which of the 6 paintings listed above you like best. Ends 2 weeks from now.
I think I personally will choose either the Fishing Boats or the Wheat field. Those are my two favorites!
EDIT:
adding a few more bonus options - but you must do mandatory entry of commenting what painting you like best first. Leave separate comments for each entry. do any or all.
option 1: Like Me on Twitter @Suec
option 2: Like my Facebook Page
option 3: Follow me on Pinterest
option 4: Follow me on Instagram
option 5: add me on
Google
+
UPDATE: GIVEAWAY OVER
Artisoo picked the winner and the winner is
And the winner is

Sweepstake Lover

from Turkey.
Didn't win? Don't despair!
If you and your readers really like our paintings we would like to offer a $30 coupon(coupon code: 30GIVEAWAY) as an apology gift. The $30 coupon can be used in purchasing any paintings on Artisoo.com while It cannot be combined with any other offers and discounts offered by artisoo.com. It will be expired in 1 month, please just entre the coupon code during checkout.
Disclosure: this is a sponsored review/giveaway through
4sponsor.com
. Artisoo is responsible for prize fulfillment and I will be receiving a painting as well. All opinions remain my own.