I bet you are wondering what "steampunk" means. Well I was to, so I looked it up and it says it means:
a genre of science fiction that typically features steam-powered machinery rather than advanced technology.
Ok well, now that we're cleared up on that. I want to share with you the costume that I'm reviewing. First my daughter looked over the costumes at
Anytime Costumes
.
Then she came across this one: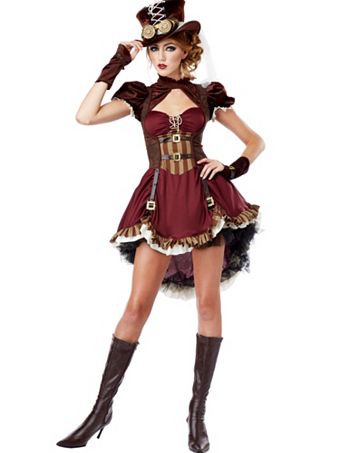 This comes with the dress, gloves, hat with sash and the goggles. This is really a quality costume. And I am not just saying that. It came in the mail last weekend, and my daughter was excited to try it on. She tried it on and loved it right away. The material is really nice on this, not that flimsy material you get some times, but really thick and nice.
My daughter actually said "This is the best costume I think I've ever had." We received this costume in a teen size. My advice to you is to take some measurements. The website gives you the measurements to go by for the costumes. My daughter took her measurements, and when she tried this costume on it fit her perfectly!
Here's some pics of her modeling the costume:
This Steampunk Costume is going to be great for Halloween. Or any parties or dances she may be going to!
Disclosure: I received the above costume free, from sponsor, for review purposes only. All opinions are my own.